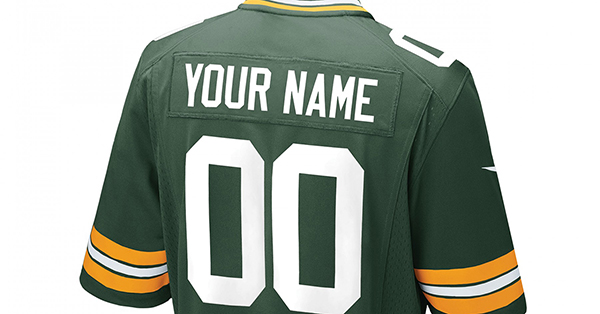 Custom Jersey Introduction
Nike has made a name for themselves creating quality shoes, sportswear, and now, football jerseys for the NFL. Since taking over from Reebok in 2012, Nike has begun offering Game, Limited, and Elite jerseys. But one of my favorite options Nike offers is the possibility of creating a custom jersey. You can get Game and Elite jerseys for your favorite team with your own name and number.
Why Choose A Customized Jersey?
The Nike NFL Jerseys are the highest quality, which is great because you wouldn't want your name on a poor quality jersey. The customized Game Jerseys are $150 and the higher quality Elite Jerseys are $300. This is great because you can show your team pride and have it feel like you're part of the team.
Also, players don't stay with one team forever. They may be retired or on a different team, and then you just look foolish. But with custom NFL jerseys you can wear your favorite team jersey proudly without committing to a player.
How Can I Customize My Jersey?
Another great thing is you not only pick the name on the jersey but also the number. Play football in high school? Why not bring back your old number. Got a favorite number? Wear it proudly. Or maybe you're buying it as a birthday gift for someone and would love to put their age on it, well, you can. I love the possibilities you have with this option. I bought my friend a customized jersey a few years ago as a gift and put an inside joke of ours as the name. Needless to say, they loved it.
Any Restrictions?
There are some restrictions on what you can put on the jerseys. For example, you can't put profanity of any kind. Secondly, there is a 10-character limit, mostly because that's all that can fit on the jersey, but also because more characters would be too expensive.
You can put players' names and numbers on the jerseys, but this is essentially pointless. It would be a waste of money to put a player's name on a jersey because the customized jersey costs more than just the regular jerseys with the player names already on them.
Also, you can't put a player's name on a jersey if they aren't on that team. Player names must match the current team rosters and the team for which they play. So if you want a player's name on a jersey, you're better off getting a regular jersey.
Wrap-Up
Overall, these jerseys are the same high quality, durable, jerseys that you can get with the player's names, except these are unique to you! If you want a breakdown of the different types of jerseys so you can decide which one to get customized, check out this guide to Nike jerseys. Keep in mind; the Limited Jersey cannot be customized.
These make great gifts, and for any occasion. They are also great to spoil yourself with, because why not? You deserve it. The NFL season is starting soon, start it in style with a customized jersey. They aren't just for diehard fans; they're for anybody and everybody. I personally have a customized Elite Jersey, and I love it.